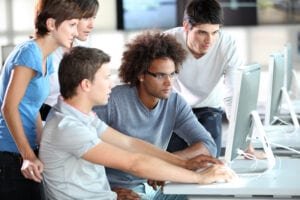 The College Waitlist
"Waitlisted." You've already waited for months! You've chewed your every nail down to the nub, endured restless nights and promised the "Great Spirit in the Sky" you'll do better, be better, if you only get into that one school. Finally, the March college acceptance letters roll out. Teary eyed and sweaty palmed, you claw open the letter, and…in bold, the only phrase that screams out is "wait listed!"
What the heck?
If you've been placed on a waitlist, it means that the admission folks are done reviewing your file and that you are on their radar, but not their first option."- Peterson's
Multiple factors can be attributed to the waitlist purgatory, but two are often assumed to be the culprits:
You're overqualified for the particular school.
You're under qualified for your dream school.
While this analysis is an oversimplification, let's examine the two candidates.
The Overqualified Waitlist Candidate
The student who has achieved more than the university's freshman profile indicates- her test scores are higher, her GPA's above and beyond, her laundry list of extracurricular successes exceed those of Ghandi- she may have applied to said university as a "backup" or "safety" school.
According to PrepScholar, "A safety school is a college that you're almost guaranteed to get into. Your GPA should be well above the average student's at that school and your SAT or ACT score should be above the 75th percentile for that school."
While applying to safety schools is a must, don't put all your eggs in the safety basket. These admissions offices are privy to your strategy; if all else fails, "I guess I'll go here." Universities predict you will choose higher ranking school if the opportunity arises.
These schools may not be quite so "safe" after all; they may "waitlist," defer or reject your application outright. Why? Yield.
Schools stock wait lists with all kinds of applicants — A-plus students, athletes, candidates who can pay full tuition…wait-listing students is like choosing back-ups for a sports team. You want one for every position."- Marketplace
Universities need to ensure that they acquire enough of the "right kind" of student. Admissions offices certainly do not want to count on your intent to enroll if you're accepted into a higher ranking "dream school." So, colleges accumulate a varied waitlist just in case they don't receive enough applicants that "match" their criteria.
Although obvious, an underlying motivation for waitlisting is financial solvency or in simple terms, money; colleges require students because students provide funding through family money, private loans and scholarships, or public grants, which keeps the school alive and thriving.
If you choose not to attend a university that ranks below your standard at the last minute, that safety school is left "holding the bag." Colleges count on it, so they might waitlist you and accept overly qualified students only when necessary.
The Under Qualified Waitlist Candidate
These scholars have targeted their "reach" or even "dream" schools, but have performed below or even well below the academic markers of qualified university candidates.
Indeed, some of these students are waitlisted, in all likelihood because they have a strikingly distinct resume of accomplishments. While these candidates may not possess the standard hard numbers, they offer other means of proof that they will succeed in a suitable university setting. See "soft skills" below.
The waitlist functions here to retain "desperate" students who seek admission into this school first and foremost.
The University's Desired Student Body
In truth, many four year institutions of higher learning select students according to a more nuanced rubric than calculating the simple face value of a student's hard data, such as GPA and Standardized Test Scores. Colleges frequently seek a diversified student body, including students who offer "soft skills," which have been developed through:
Community Service
Nonprofit or For-profit Business Ownership As a Minor
Club, Student Body, or Athletic Leadership
Artistic Merit- Gallery Openings, Musical Competitions, Published Poetry, Drama/ Theater Experience, etc
Because universities themselves offer an abundance of culturally enriching extracurricular opportunities, such as student-led clubs from animal welfare and sports to hip hop and computer science, they seek to cultivate a new crop of political and professional leaders who have more to show than a 4.0 GPA at the end of their college tenure.
Best Waitlist Advice
Apply to a range safety, match, and "dream" universities.
Write a letter of appeal to Admissions Offices. Why is the campus the right fit for you and why are you the right fit for this campus's school culture?
Be patient, to a point. The intent to enroll deadline for most universities is May 1st, so kindly urge the university to decide beforehand.
Broaden your horizons during the college application process
Even if you are waitlisted or not accepted by one college, as long as you've applied to a range of universities, you will land exactly where you belong for your next four years.